5 well deserved stars!!!
Two Nights
by
Kathy Reichs
(Goodreads Author)
I'm a huge Temperance Brennan fan, so when I read the author Kathy Reichs had a new female lead character I was thrilled.
And the thrill never left me even after I finished TWO NIGHTS. In one sitting!
Sunday Night has a tortured childhood past. Stints in the military and as a police office have added to her internal battles and physical tortures. She lives alone, isolated and cut off from most of humanity. People who don't know her fear she isn't sane. Those that do know her know she teeters between madness and lucidity.
When her old foster parent gives her the chance to break her self-imposed isolation, Sunday is torn. Should she venture back out into the world to try and help a child, who much like herself, seemed tormented and troubled, or stay on her island, literally awash in solitude.
Thank goodness Sunday chooses to help.
TWO NIGHTS is a smart, fast-paced, in-depth story about terrorism – both political and psychological, idealism and family desires.
I literally can't wait for the next SUNDAY NIGHT story. Temperance Brennan: there's a new girl in town.
3 stars
This book was well written, but it was told as a backward tale – it starts, jumps ahead fifteen days – and then each chapter goes back another day until you get back to the beginning, so that put me off from the get-go.
When she returns to her home town to sell her ailing father's home, Nicollette is surrounded by the echoes from her past – past boyfriend, past frenemies, past secrets, past bad choices. When she was 18 years old her best friend Corrine went missing and Nic and her friends and family were pulled into a mystery that was never solved. 18 years later, the moment she gets home, another girl goes missing and it's deja vu all over again (!)
The mystery surrounding these disappearances it the formation of the backward telling chapters. I have to admit, I had to go back and reread parts just so I could keep up with what was happening.
Maybe it;s because I'm such a linear thinker and have a scientific background that this threw me as a reader. The book is very well told, the characters fully developed and their actions believable.
I just wish I had read it from the back cover, forward.
I love reading and now I get to review the books I love ( and some of those I didn't love so much!) Here are a few of the ones I've done lately.
The One
by John Marrs (Goodreads Author) Jan 16, 2017  
What would you do if there was a way to discover the person you were destined to spend the rest of your life with? Would you want to find out? Would you be willing to risk everything – your way of life, your family, life as you know it, maybe even a commitment you've already made – just to be with this person?
Those are the questions THE ONE by John Marrs asks, and answers.Told in rotating points of view by five different characters who have all been matched with their ONE true mate through a simple DNA swab, Marrs takes us through a cleverly crafted series of events and emotions for each character.
Mandy, NIck, Christopher, Jade, and Ellie are as diverse as people can possibly be, yet all yearn to find the one person on the planet who will love them unconditionally and for all time. With MATCH YOUR DNA.com, they do.
Or do they?
I hate spoilers, so you need to read the book to get that answer, but I will tell you this: this read is sosososo worth your while.
We live in an era where a simple cheek swab can tell you a million things about your heritage, your health, even your predilections to disease. But what if that same DNA could be matched with the one person on earth who is your true mate? We drop dollars by the bucketful to find out who are ancestors are. Would we be willing to shell out a chunk of cash to discover what our future could look like?
Ask yourself this: if you've already found the person you think you're going to spend eternity with, would you chance that decision not being the correct one by taking the test? And what would you do if you found out you weren't after all, with the right person? Would you leave them? Stick with them knowing in the back of your mind there was someone "out there" who could fulfill every want and need you have? That's heady stuff and Marrs explores it expertly.
I'm giving this book 5 well-deserved stars because it made me think, entertained me, mystified me, and in the end, solidified in my mind what this whole DNA-learning industry can do right –and wrong.
I was given a copy of this book from Netgalley for an honest opinion of the work.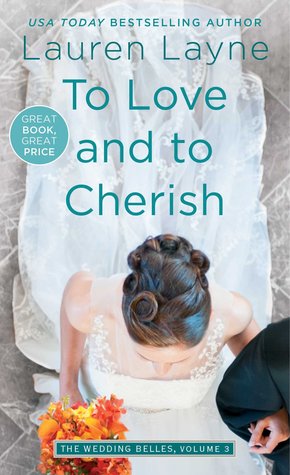 To Love and to Cherish (The Wedding Belles, #3)
by
Lauren Layne
(Goodreads Author)
I never get any sleep when a new Lauren Layne book comes out!
TO Love and to Cherish, the third installment in the wonderful WEDDING BELLES series tells the story of business owner and founder Alexis Morgan and her "silent" partner, the hunky, British, pseudo-Clark Kent-y, Logan Harris.
When the two met in a bar eight years ago, they formed a friendship and a partnership with immediate spark, business acumen on both their part's, and determination. Alexis' was determined to have the Wedding Belles be the premier bridal agency in NY and Logan was determined to have Alexis – forever.
And as smart as Alexis is in business, she's not as intelligent when it comes to realizing what everyone else – her friends and even her family – know: Logan loves her.
When Alexis finds out her younger sister is getting married and that she's pregnant to boot – by the guy Alexis used to love – she's determined to stop thinking about all that could have been with the guy and wasn't, and get out there and find her own happily ever after.
Logan, determined to the max, sets out to proves he's the man for her. He's waited eight years and now he needs to have her see him as man. and not merely a business partner. And soon. He's being handed the family business back in England and his parents want him home. Now. He needs to make that big decision of staying or going home. And Alexis is a big part of that decision.
I hate spoilers so I'll stop there. Suffice it to say if you haven't read Lauren Layne's Wedding Belles series you don't know what you are missing, I am unable to choose which of the books is my favorite because I fell in love with all her characters- the heroes and the heroines.
I was given an Arc of this book from Netgalley for an honest review.
Elmwood Springs, Missouri, is a small town like any other, but something strange is happening at the cemetery. Still Meadows, as it's called, is anything but still. Original, profound, The Whole Town's Talking, a novel in the tradition of Thornton Wilder's Our Town and Flagg's own Can't Wait to Get to Heaven, tells the story of Lordor Nordstrom, his Swedish mail-order bride, Katrina, and their neighbors and descendants as they live, love, die, and carry on in mysterious and surprising ways.
Lordor Nordstrom created, in his wisdom, not only a lively town and a prosperous legacy for himself but also a beautiful final resting place for his family, friends, and neighbors yet to come. "Resting place" turns out to be a bit of a misnomer, however. Odd things begin to happen, and it starts the whole town talking.
With her trademark humor, wild imagination, great storytelling, and deep understanding of folly and the human heart, the beloved Fannie Flagg tells an unforgettable story of life, afterlife, and the remarkable goings-on of ordinary people. In The Whole Town's Talking, she reminds us that community is vital, life is a gift, and love never dies.
The Lake House
by Kate Morton (Goodreads Author)
This book took me a long time to read because I wanted to spend time with it. The story of the Lake House traverses over 70 years of narrative – and even more of backstory – but every word of it is necessary to fully tell this beautiful tale of love, forgiveness, and redemption.
In 1933, an 11 month old child goes missing from his family's Cornwall estate, never to be found.
In 2003, detective Constable Sadie Sparrow,while on forced leave from the police department, is enthralled with the story enough to open the cold case and try to discover who kidnapped–or murdered–the little boy.
What ensues is a masterfully woven story of promises made and kept, murder, and life altering decisions.
I'm a big fan of Morton's lyrical, harmonic use of language and descriptions. I've become an even bigger fan as I've discovered what a fine story and plot crafter she is, intertwining several stories and viewpoints into one wonderful ending.
Apprentice in Death
by
J.D. Robb
(Goodreads Author)
I try every time a new J.D.Robb 'IN DEATH' book comes out NOT to read it in one sitting.
I can never do it.
How is it possible for Robb, aka Nora Roberts, to write so proficiently, so expertly, so damn captivatingly a series that just gets better with each book? Characters so real you can "see" them on the page; a plot so true-to-life you get a little scared it really could happen – or has! A love affair/marriage that grows stronger and richer despite time and circumstances. All these facets make up an In Death book and the newest, APPRENTICE IN DEATH, has all that plus a villain who will chill your soul to the marrow.
Once again Lt. Eve Dallas and her mogul husband Roarke are plunged into a case that calls into question everything they know about justice. A master and his apprentice are terrorizing the citizens of New York in the not-too-distant future by gunning them down – seemingly – at random.
But Dallas doesn't see it as a random spree. She thinks it's just the beginning and she's proven correct even though she hopes she's wrong.
I always have a favorite quote from each In Death book, this one no exception. For the first time, though, it's uttered by Eve's quasi-nemesis Summerset. "Evil doesn't have an age." You'll understand it when you read the book.
The usual rich cast of co-horts populate this book, and like old friends, it's a pleasure to see them again when they pop up.
Last year I went back and re-read every In Death book from the beginning – and there are a lot of them! Each and every one is a five-star piece of writing and I would really love to sit in on a JDRObb masterclass on plotting and character someday!
Wishes do come true, they say…
5 stars never seems like enough for these books!
Sting
by Sandra Brown (Goodreads Author)
So another amazing suspense from uber-talented Sandra Brown.
Jordie Bennet and Shaw Kinnard are two characters with enough heat generated between them to singe the pages of a real, paper lined book, and the circuits in your Kindle. When their eyes meet across a crowded bar, you can feel the ice melting in their glasses.
But…a romantic dalliance isn't in the proverbial cards for these two because Shaw has been hired to…wait for it…KILL Jordie. Yup, he's a hired hit man and only Sandra Brown can make that sexy and have you rooting for him in the bargain.
What unfolds in STING is a complicated story of lies, an FBI case, missing millions, and a bad guy who's in the wind…or is he?
AS usual, Sandra Brown delivers on all points; plot, character, pace and heat level.
My fingers are still singed!
A Living Grave (Katrina Williams #1)
by
Robert E. Dunn
 I was given an arc of this book from Netgalley for an honest review.
I'm going to start with the things I loved about this book…and that would be EVERYTHING!
In Katrina "Hurricane" Williams, Robert E. Dunn has given us a heroine worthy of rooting for. Suffering from PSTD from a horrific incident she went through while on active duty in the Army 10 years ago, Katrina now works as a detective for her hometown sheriff's department in the Ozarks. Wicked smart and savvy, she's also damaged emotionally and holds most people who try to get close to her at a gun's distance away, as she just tries to survive day by day. When she discovers the body of a murdered girl, her past, present and potential future all collide, forcing her to face her demons and fight for what she truly wants.
The secondary characters who surround Katrina are all male, something I found interesting while I was reading. There were no women in her life to offer guidance and support, or to help her navigate through her confusing and ambivalent emotions, save for a psychotherapist whom Katrina despises but is forced to see, mandated by the sheriff's department. Their relationship is tenuous at best.
As for the male characters who do surround her, they range from her career army father and uncle, the sheriff, a deputy whom she calls a friend but who she really knows nothing about, and a crime victim who rapidly becomes something much more to Katrina than she wants to admit.
Dunn's lyrical descriptions of Katrina's inner struggles and demons read almost like poetry as he weaves an intricate and deadly plot of motorcycle gangs, the MOB, cancer survival, and child abuse into a novel so rife with complex feelings and life-situations, you are compelled to read it slowly, so you don't miss a nuance of the gut-wrenching emotions he elicits from his characters.
Mr. Dunn was a new author to me, but since A LIVING GRAVE is hailed as the first in a series featuring Katrina WIlliams, he has now become an author whose work I am going to look for and forward to.
The Wedding Belles is a winner series! I was not familiar with Lauren Layne's THE WEDDING BELLES series until this book, # 3, but after reading it in a day I purchased the 2 before it and preordered # 4!Heather Fowler has always wanted to be a wedding planner. As a child she pretended to plan all the weddings between her (lousy-in-the-game-of-love) mother and her frequent boyfriends. Unfortunately, none of those boyfriends ever turned into mom's happily ever after, but Heather was left with an insatiable love of planning the perfect day for a bride. And now, living in NYC and working for THE WEDDING BELLES, the premier bridal group in Manhattan as an assistant Wedding planner, she gets to help plan the weddings of the elite and rich. Her goal to be an actual wedding planner and not an assistant is within reach when she's given the task of planning a quick, over the top wedding for a reality maven and debutante. Exhilarated, she's also exhausted because of a pesky neighbor's late night jam sessions wrecking havoc on her much needed sleep. Josh Tanner, the music playing
Josh Tanner, the music playing neighbor, is too good for his own sake, talented, and living life in the here and now. For him, that means no job, a new girl in his bed every night, and a devil may care attitude about life. Oh, a penchant for annoying the cute little neighbor in apartment 4c.
The attraction between these two is page-scorching and my fingers were singed quite a few times. Heather, who believes in a happily ever after for everyone but herself, and Josh, who vows to NEVER lose his heart to anyone are two people you just know have to get together. I hate spoilers, so I'll stop myself there. You really need to read this book, though. I'm starting on book 1 tonight! 5 stars from me!
 The Bookshop on Autumn Lane by Cynthia Tennent
The definition of Irony? A dyslexic who hates reading inherits a bookstore.
When Gertrude "Trudy"Brown inherits her great aunt's bookstore, Books from the Hart, she doesn't even know it until a year after the old woman's death. Vegan Trudy, who lives a life of freedom and noninvolvement, travels around in a vintage – and aging- Volkswagon Beetle with a nameless dog she stole from someone who abused it. Undiagnosed with dyslexia until later in life, Trudy has always been an outsider, especially in the town of Truhart where she was forced to live with her great aunt when Trudy's mom died when Trudy was just 14. Due to her inability to read and her outsider status, life was miserable for the girl. Coupled with the fact her great aunt simply thought she was lazy and not suffering from a reading/learning disorder, Trudy never got the love, support, and care she really deserved. She hasn't been back since she ran away at 15 and all she wants to do is sell the bookshop she hates and get out of Truhart as fast as she can. Her plans, though, get disrupted.
Christopher "Kit" Darlington, a visiting English professor from England wants to stop Trudy from selling the store but isn't exactly honest about his reason why. The more time Trudy spends with Kit, and the more the residents of the town that used to make fun of her come to know her as an adult, have Trudy rethinking her plans to travel as far as she can get. When the real reason Kit doesn't want Turdy to sell the shop is revealed, it's a true test of how they'll deal with the growing feelings they are having for one another.
I don't like spoilers so I won't tell you any more about the plot. What I will tell you is what a great read this book was. Trudy is a heroine we can all believe in. Snarky, engaging, and smarter than anyone – including her – realizes, she gives the face of dyslexia a human appearance and one you simply want to route for. The Bookshop on Autumn Lane is well worth a few hours of your time to read. I give it 5 stars!
The Trouble with Mistletoe (Heartbreaker Bay, #2


by

 Jill Shalvis 

(Goodreads Author)
I was given an ARC of this book at RWA 2016 to read and review and I am so incredibly happy I was! The second book in the Heartbreaker Bay series, The Trouble with Mistletoe gives us the story of Willa Davis, a pet-store owner, pet-sitter, and taker-in of mistreated youth. Willa's had a difficult life, growing up with an alcoholic mother, and has been in foster care too many times to count. She learned the hard way to depend on herself, and now she gives emotional refuge to teens and 20-somethings who have also been displaced and feel unloved. She knows how it feels to desperately need a place to safely land in a hard world. And despite having a childhood fraught with problems, Willa is the most positive person you will ever meet. You can't help but be in a good mood when you're around her.
Into her shop one day a few weeks before Christmas comes Keane Winters with a cat, dropped in his lap by an ailing aunt, and an irresistible air about him that he had when the two went to high school together. Willa has never forgotten the former jock, especially since he once did her a serious wrong. Keane, though, has no idea who Willa is. He just knows he needs help with the "cat from hell"and Willa seems like the answer to his pet sitting needs.
Keane can't figure out why Willa is so antagonistic to him, but he can't resist her snarky come backs, or the way animals – and people – respond to her.
All the characters Jill Shalvis introduced us to in the first Heartbreaker Bay, Sweet Little Lies, are present in this book as well. Shalvis is a master character-creator. When you read this book you feel as if you are reconnecting with old and very much loved friends. The witty banter between the main characters and the way she draws the friendships and love her characters have for one another, truly makes her a story-teller worth reading.
I wish I could give this book more than 5 stars!
Unlucky in Love (Whisper Creek, #4)
by
Maggie McGinnis
(Goodreads Author)
A Cowboy Convert
Okay, I'm going to actually say this out loud, admit it and suffer the wrath of females everywhere: I've never really gotten the cowboy thing.
I know. Go ahead and curse me.
But…I've had a complete 180 turnaround ever since I finished an ARC of Maggie MacGinnis's UNLUCKY in LOVE, her soon to be released novel in the Whisper Creek series. This book is so wonderful, the characters so damn real and fun, the cowboys so delicious, I now know what all the fuss is about- and I am a believer and a convert!
Alexis Maquire is left at the alter 2 weeks before her wedding. This isn't the first time she's been dumped so unceremoniously by a beau. Middle school, high school, even in college, the boys she dated where great, but they seemed to be dating her just until they "found someone better." Which they always did. Alexis is still hung up on ex-fiancé "the Arse", Tristan, and tries to figure out a way to get him back and make him love her forever. We've all been there, girls, haven't we?
Her sister Katie gets her involved with a summer job as nurse at a ranch in Montana…with single, sexy, cowboys. Just the thing Katie thinks Alexis needs to get her out of her funk about her missed wedding. Oh, and while she's in Montana, Katie has devised a new identity for her sister, of sorts. She's not to be plain, old boring Alexis 1.0, but fun, flirtatious, willing to risk it all Lexi 2.0
But can Alexis embrace the new Lexi? Maybe, if it can help her become a better, happier Alexis and show The Arse that she really is marriage worthy.
Gunnar, a real honest to goodness cowboy- and Mr. July in the Whisper Creek Ranch calendar, picks Lexi up at the airport and right away finds her more than enough! But convincing her she doesn't need to be a new improved version of herself is a tall task – one he's more than willing to take on.
I hate spoilers, so I'll stop the plot summary there. But I do want to wax prolific about Ms. McGinnis for a while.
If you haven't read Maggie McGinnis before, you are in for a treat. Her writing style is easy and effortless, her dialogue spot on. I sat down intending to read a chapter or two and when I looked up I was half way through the book and only had to stop because I had to make dinner for the family! The powers that be categorize this book as a "Sweet Romance," but let me tell you, there is enough heat , steam, and spark between these two main characters to spontaneously strike a match. And the secondary characters ( Alexis' family and the people who work at the Ranch) were so beautifully drawn and realized, by the end of the book I felt like they were old friends, come for a visit.
Unlucky In Love is book 4 in the Whisper Creek series and today I am going out to purchase books 1-3 because I need to know what's happened before with my "new" friends!
I wish I could give this book more than 5 stars.
Wild Goose Chase
by
Jan Romes
(Goodreads Author)
Every now and again I find an author with a new book release who I just have to tell the world about. Jan Romes and her new book Wild Goose Chase are just that author and book!
Olivia Pence and Dezz Casey have known each other forever – literally! From kindergarten, through grade school, to high school where they were co-valedictorians. They even work at the same magazine as writers.
Dezz has loved Olivia since the first moment he saw her, and like any little boy does, he showed his love in annoying, obnoxious little boy ways, like tripping her in school, or teasing her at the worst moments possible. Unfortunately, he continued that means of showing his affection into adulthood.
The duo have a relationship that not only pits them against one another, but that pushes them towards competing with one another, something they both seem to thrive on and which works for them. Up to a point, that is.
Dezz is quite literally a thorn in Olivia's side in every way imaginable and all she wants to do is be free of him. Or does she?
I don't like spoilers so I won't go too much into the plot line because you should really read this charming story for yourself.
What I will tell you is that Ms Romes has a very easy writing style with true-to-life dialogue that trips off the page. I had planned on reading just a little at a time, but found myself devoting a whole day to finishing it because I just had to know what was in store next for these two lovable and appealing characters. I was rooting every page of the way for Dezz to finally win over his girl. With every step that he seemed to move forward, their relationship moved ten back. I love stories like this!
A sweet romance filled with charm, heart, and love, Wild Goose Chase is a lovely book to add to your summer reading list.
Illusion Town
by
Jayne Castle
(Goodreads Author)
Hannah West and Elias Coppersmith practically sizzle off the page in Jayne Castle's newest Harmony book, Illusion Town. Illusion Town is Harmony's answer to Las vegas and is chock full of magician,s show girls, and mobsters ( who run the town and keep it orderly.)
Hired by Coopersmith to find a missing family heirloom, Hannah, aka The Finder, is a strong dream-talent. When she finally agrees to go out to dinner with Elias, they wake up the next day in a strange hotel room, disoriented and…married. Although it's Harmony's version of an MC( Marriage of Convenience), both soon begin to wonder about an actual life together.
Putting the pieces of their forgotten night together, they discover a plot to sabotage Hannah's current claim on her inheritance. Along with Hannah's dustbunny, Virgil, the duo fight off psychic ghosts, a motorcycle gang, and a crazed para-psychic who wants Hannah's inheritance for her own.
Fans of Castle's Harmony series will enjoy this twist on the Vegas lifestyle, as well as the fully drawn characters she puts into her psychic realm.